Top 5 Adult Pantyhose Fetish Blog Review
Mainstream adult content blogs are easy to find nowadays with the advent of the internet. Although these galleries can be fun to browse, they tend to have an unappealing interface, persistent ads, and are lacking that personal feel. Thankfully, with the internet came the popularity of creating personal blogs – many of which revolve around fetishes. Finding such blogs can take a while so to help save you time, I've put together a top 5 list for adult pantyhose fetish blogs
Make sure you also check out our Top Five Celebrities In Pantyhose Blogs On Tumblr!
5: Tights-Fetish
Number five on our list is a blog on Tumblr called
Tights-Fetish
. This blog has a fairly simple layout and is updated about 8 times every 24 hours. Even though it's about tights, some of the women are actually wearing pantyhose. Something else to note is that the women in these pictures are usually mostly clothed, but not always. The blog includes women of all body types and races, so there are some good chances that you'll find some pictures that you like. If you don't already have a Tumblr, I recommend creating one and following this blog.
4: PantyhoseSwish
Next up is a blog called
PantyhoseSwish
which is also a Tumblr blog with just images. This blog has a similar layout to the previous one, but it includes an archive page so that you can see the older posts better. If you're looking for a website with a good mixture of mostly nude and clothed females in pantyhose, you've come to the right place. This blog also features sexy images of lesbians in pantyhose for your viewing pleasure. Another reason why this blog is ranked higher than Tights-Fetish is that it gets updated twelve times a day on average. This means more pictures daily to help you satisfy your needs.
3: Pantyhose Enthusiast
Pantyhose Enthusiast
by Pantykees is our third personal pantyhose fetish blog pick. Like PantyhoseSwish, this blog is on Tumblr and includes an archive page. Unlike any of the previous blogs, some of the posts have commentary on them. The pictures, along with the comments on them, will certainly please anyone with a pantyhose fetish. This blog also has images that include males, or at least dicks, along with the sexy women. The best part of this blog is that it gets updated over twenty times a day! Make sure not to check it at work or else you'll be distracted the entire day.
2: Women in Pantyhose
Another personal blog full of fantastic images is
Women in Pantyhose
. This blog has an archive, a place for you to submit your own pictures, and a link to message the blogger. The posts typically have descriptions at the bottom and are tagged for your convenience. On the right side of the blog is a word cloud that you can look at to explore these different tags. Above that are other pantyhose or sexual blogs that this blogger follows. On top of that, there's a separate page for you to check out the most popular posts on the blog. The blogger only posts about 8 times a day, but these posts include sexy ladies doing a variety of different things in their pantyhose.
1: Nyloner
Our last, most impressive personal pantyhose fetish blog is a website called
Nyloner
. You might be wondering what is so special about this blog. First of all, it has the best layout and most features of any of the blogs mentioned in this article. On the right hand side of the screen, you'll find a word cloud for tags, the archives, a "hot topics" section, and a list of links to other recommended pantyhose fetish sites. This blog even has a list of the best pay sites. Unfortunately, posts here aren't as frequent as the other sites, but they do feature many mostly nude women and have descriptions included. If you haven't seen this blog before, the lack of frequent updates can be made up for with sixty-one pages of sexy women for your enjoyment.
These personal blogs are great places to start if you're looking for some sexy pictures of women in pantyhose. Between them, there are images of hot lesbians, petite beauties, MILFS, and ladies tied up while wearing pantyhose. We all know what it's like to want to satisfy your desires and now you've got access to plenty of pictures to help you do so. So, check out these blogs and let us know what you think. You can even subscribe to them to get some great updates to make your day more enjoyable. I also recommend the letter I've got from Melissa, where she tells why like
pantyhose sex
!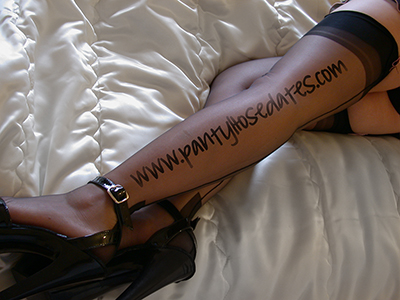 Sign up today

and find members near you