Housemate Angelica In Black Pantyhose
It must have been about half past one in the morning when I hear a faint knocking on the door to my room. Initially thought it must have been my imagination and turned over and tried to get back to sleep again. Once again I hear the faint knock, knock, knock, on my door. As I still lay there, before getting the chance to answer the door, it opened and shyly my housemate Angelica slipped in silently. She was wearing nothing but her silky black nightdress and a
pair of black pantyhose
.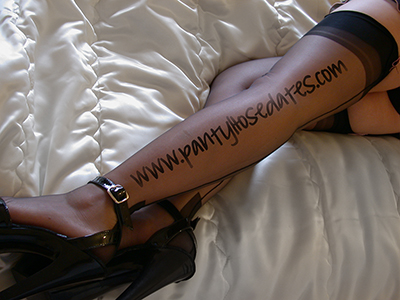 I sat up in my beds lightly confused by what was going on. She didn't say anything; just put her fingers to her lips and made an almost inaudible shushing sound. She then slowly peeled the straps that was holding her night dress off, causing the nightdress to fall onto the floor leaving her wearing now nothing but the
black pantyhose
.
I could feel as the blood rushed into my cock, making it hard as a rock. Angelica climbed onto the foot of my bed and opened her legs spread eagle. She used her left hand to gently massage her breasts, while using her right hand to rub her tight little pussy through her pantyhose. I couldn't believe my eyes, it was almost as if all my Christmas's had arrived at once.
I could tell by the darkening of the pantyhose that she was getting wetter and wetter. She moaned in pleasure as she teased her clit and softly sank her fingers into that delicious looking pink pussy of hers. Watching this was unbearable, my cock was so hard it was almost painful. I slipped my hands under my bead sheets and started to stroke my hard cock. This seemed to arouse Angelica even further, she looked me directly in the eyes and said "Don't do that, doesn't daddy want to play?"
That was my breaking point. I leapt out from under the covers and grabbed her, as she lay down on her back ripped open her pantyhose at the crotch and had my first taste of her delightful wetness. I used my tongue to slowly eat her pussy out. As much as she tried to stifle her moans she couldn't. "Give it to me" she screamed, "I want that thick cock inside me", I flipped her over and got her on to all fours, my cock was now throbbing at this point and I could see the pre-cum forming on the tip of my cock. I ran my hand over her ass and outer legs, the feel of her
pantyhose
and her skin drove me wild. I once again ripped her panties open a litter further in order for me to get total access to her pussy.
I grabbed my cock and thrust it deep inside her. She moaned as my cock filled every inch of her tight little pussy. She was so tight it was ridiculous, could feel as that I wasn't going to last too long. The feel of the pantyhose under my hands was such a turn on. I grabbed her ass hard and pounded her pussy away. I could feel her pussy start to tighten as she started to climax, this set me off; I came deep insid her filling her pussy with all of the cum my balls could muster. The feeling of the joint climax was amazing. She collapsed, and lay on her stomach as I slid out allowing all of my cum to drip out of her pussy. I fell backwards into bed exhausted by my efforts and my head still spinning from what had happened. I must have fallen asleep as soon as my head hit the pillow. I remember waking up the next morning with Angelica gone and not being able to tell if last night had actually happened, or if it was a dream….
By
EroticWriter
http://www.fiverr.com/eroticwriter
Sign up today

and find members near you