Having A Pantyhose Lover In Houston
My boyfriend, or lover if you want, Steven, has been away visiting his sick mother and he finally came back to Houston last night. I wanted to give him a nice welcome home surprise so I decided to let him indulge in his pantyhose fetish. When he got here I greeted him while wearing a nice, soft pair of hose, a pair of heels and a thigh high silk robe. His eyes immediately went to my legs. I struck a pose with my hands on my hips and a leg bent at the knee, showing my legs off to him then told him to put his suitcase down.
Check Out My Housemate Angelica In Black Pantyhose And High Heels!
Steven followed me up to our bedroom and I undid my robe, letting it drop to the ground. He saw I had nothing on underneath and his eyes widened. I sat on the end of the bed, beckoned him to me and told him to kneel down. He did and I lifted up a foot, putting it in his lap. He slid my heels off then held one foot in his hand. He ran his fingers along the top of it, caressing me and feeling the pantyhose move between us. He looked up at me and said "You look so beautiful and sexy in pantyhose," and then turned his attention back to my foot. He began to massage my foot, kneading the sole with firm fingers. He took his time before gently putting my foot down and moving on to the other one.
The pantyhose actually felt good on my skin
I wriggled my toes as he moved up. He put his hand around my ankle and nuzzled it. He must have liked the feel of the hose on him because he smiled. I let him enjoy the sensation for a few minutes then I moved higher up the bed and parted my legs. I reached down and stroked my pussy through the pantyhose. I could feel my pussy juices soaking the crotch. He watched me and touched himself as I kept fingering myself. The roughness of the pantyhose actually felt good on my sensitive skin down there and turned me on even more. When I couldn't wait any long I ripped a hole in the crotch of my pantyhose. Steven climbed on to the bed and moved up towards me, his hands sliding up my hose covered legs. I felt a shiver go up me as the hose moved across my skin. He put his hands on my waist and leaned over me. I could feel his thumb rubbing against the hose. I reached down and guided him into me. He moaned as he pushed inside. I wrapped my legs around his waist, pulling him deeper inside and letting him feel the hose on him. He began to thrust in and out of me as his hands glided over my waist. He breathed heavier as he got into a fast rhythm and I felt my pussy tingle.
I put my pantyhose covered leg over his
He gave a few more thrusts, grunted and started to cum. I clenched my pussy muscles and rocked against him, pushing myself over the edge. Steven pulled put of me and laid down beside me. I moved on to my side and put my pantyhose covered leg over his. I gently rubbed against him as we caught our breath. I just love to be his pantyhose lover in Houston, and I think he agrees to this as well!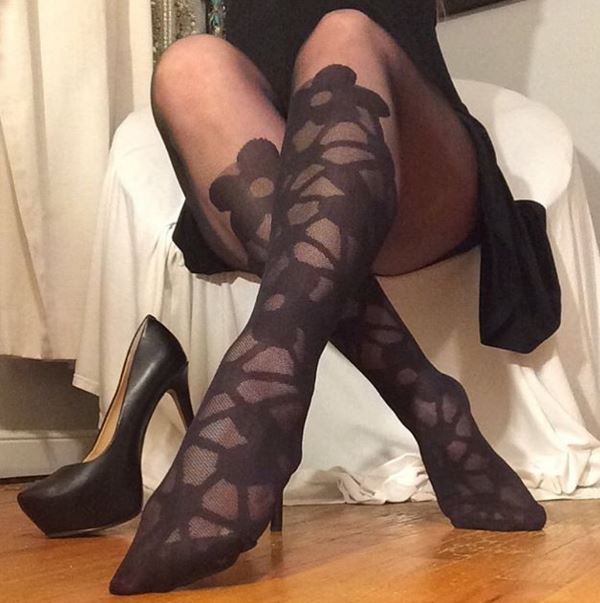 Image Source: mydaddy loves nylons / Instagram