He Wanted Me Out Of My Silky Pantyhose
Hey, all of you out there!
First things first! Let me tell you about the hot guy at work. At first, he was just nice to look at, but as time has gone on, he has become more and more flirtatious. By the end of last week, he had made it perfectly clear that he wanted me out of my silky pantyhose and I had made it more than clear that I wasn't opposed to the idea.
So, after our last shift, we went to a party together down by the water. It was packed with hot young things all around us, but he never took his eyes off of me. I love that he was so attentive. In our business, you usually find only the guys with wandering eyes. They check out every girl that comes into the bar and don't think anything of it. This one is definitely different and he seems to really adore the selection of nylons that I wear to the bar.
Anyway, it was no surprise that our few drinks at the party turned into having a final nightcap at my place. Tipsy and hungry for one another, we wasted no time in getting down to the naughty business. Let me tell you that he did not disappoint me! The man is not only gorgeous, but extremely talented in the bedroom . . . or living room, in our case. That was as far as we made it before we were tearing off each other's clothes and pawing all over one another.
Before I knew it, we were mostly naked and on the floor. My legs, still encased in my nylons, were slowly being pulled upward to rest on his shoulders as he kissed his way down the material until he reached my bare thighs. Then, it was all a blissful blur as he had me panting so hard I couldn't think. After some very sensual, extended teasing, he finally gave me what I needed in the most exquisite way. It was quite the night and I have to say I hated when it ended the next morning.
So, with this new escalation, I'm not sure how our work relationship will be from now on. Don't get me wrong. I'm definitely not one of those women who thinks a guy sleeps with me and he's all mine and committed. I just hope he's not thinking that either. I wouldn't mind seeing him here and there, but only if it doesn't make the work life awkward.
I will keep you posted on how all of that goes. For now, speaking of work, my shift starts soon. Wish me luck! Bye for now.
Kisses from Angelica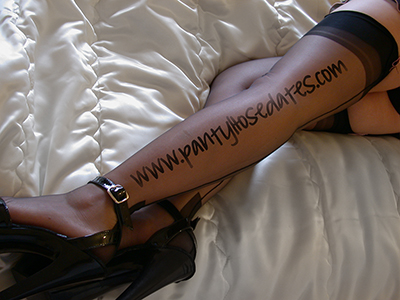 Previous blog entries:
They can see my crotchless nylons caressing my thighs
His Rough Hands Felt Good Against My Pantyhose!
Running his hands up and down my pantyhose
My most divine pair or thigh high pantyhose
White nylon pantyhose with diagonal stripes!
Thi guy at work is really hooked on pantyhose!
Sign up today

and find members near you