New Guy At Work Is Hooked On Pantyhose!
Hey, everyone!
I have been so busy! I don't know about you, but I am so glad to be past the holidays and into the new year finally! All of the parties and presents were great, but it seems that I was always on the go. I've hardly had any time at all to myself. I will say that I received some really nice new pairs of stockings from my friends though.
The extra money from all the long shifts at the restaurant and bar have been nice for my bank account, but not so much for my social life. Now that it has slowed down again, I'm looking forward to having some time to get out and just hang out with friends. Who knows? I might even meet someone worthwhile and kick up my sad little sex life a notch.
Of course, I may have a head start on all of that. We have a new guy at work and he is so hot! I've already been chatting him up and he's really flirtatious toward me, so I think the interest is definitely there. Best of all, he seems to really admire my long legs and is constantly commenting on my pantyhose.
For example, I wore a pair of silky thigh highs the other night that really seemed to knock his socks off. They were dark blue with thin white pinstripes and small white bows on the back of them. I topped them off with a short pleated skirt and a button down white shirt that hugged my breasts tightly. I left several buttons undone so that they were showcased above the bar and caught not only him, but more than a few customers eyeing them appreciatively.
Got A Pantyhose Fetish? Join Us Now!
I have to admit that I loved the attention. After the drought prior the holidays, it was just what I needed! There is no doubt that going to work and getting to work by someone so appealing and seemingly interested has really improved my shifts a great deal. I'm just hoping that we might take it to the next level soon so that he can improve my evenings after work, as well. A girl can hope, right? Right now, I'm about to get ready to go out with some friends to a hip new club down by the bay. I love nights on the water. It's so warm and balmy outside and I have just the slinky tank dress to wear with the barely there nylons I bought just to go with it. If I'm lucky the new guy will turn up and I can get to know him a whole lot better, if you know what I mean. If he loves the view of my legs behind the bar, he'll love having them wrapped around him.
Whew! What a thought. I'm going to go get dressed. I'll catch up with you all again soon!
Kisses from Angelica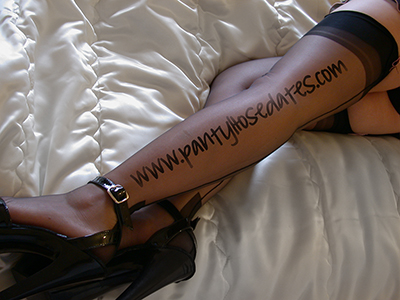 Previous blog entries:
He has a complete pantyhose fetish and loved my nylons!
They can see my crotchless nylons caressing my thighs
His Rough Hands Felt Good Against My Pantyhose!
Running his hands up and down my pantyhose
My most divine pair or thigh high pantyhose
White nylon pantyhose with diagonal stripes!
Sign up today

and find members near you