White Nylon Pantyhose With Diagonal Stripes
Hey, all! It's been a bit of a drought here lately. Not a man in sight and even my large collection of sexy pantyhose couldn't lure one in! What on earth is the world coming to?
Make sure you also check out Do I Dare Wear Pantyhose On The Beach?
Of course, it hasn't helped that I've worked pretty much non-stop. I've worked every day this week at the restaurant and two nights at the bar. Still, I usually attract quite a bit of attention at either place. I guess everyone has a lull from time to time, but it seems like such a downer when I'm all decked out in a pair of silky nylons and can't even get a head turn. Am I losing my touch?
I kid, though. I suppose everyone has a dry spell from time to time and this is just my time. If nothing else, it has given me a chance to get some rest and I did a bit of online shopping for the holidays. I'd love to tell you that I bought a bunch of great presents for folks, but I mostly picked out new nylons for myself. Don't get me wrong, I did order some really great gifts, I just didn't leave myself out of the giving.
My favorite pair is a bit of fun for our upcoming celebration at the bar. They are a sheer white nylon with fun diagonal stripes in red like a candy cane! I've already found a cute little santa dress with a faux fur collar and hem and red leather boots that will go with it perfectly. It's a little bit much maybe, but guaranteed to be an eye catcher and so, so cute! I can't wait to wear it to our party and show off not only the outfit, but my long legs beneath it.
Other than that, I really don't have a lot of news this week. I'm looking forward to the spending some time with family and friends between shifts at my jobs. There will be a lot of those, as well, as both places have been hopping with folks lately. I guess everyone is out shopping for the holidays with friends and family and bring them along to eat or drink at the end of the day. It can be tiring, but that's just more money for me, so I can't complain too much.
So, I'll just enjoy all the tips I am making and maybe check out some of the other clubs when I get some free time. There are always plenty of hot guys in those to admire my long lush legs and sexy pantyhose and I'll have plenty of new ones to show off to them when I get time to go out for a bit of fun!
I have to run. It's going to be another long day at the restaurant. Who knows . . . I might even run into some of you there during on of my shifts.
See you again soon!
Kisses from Angelica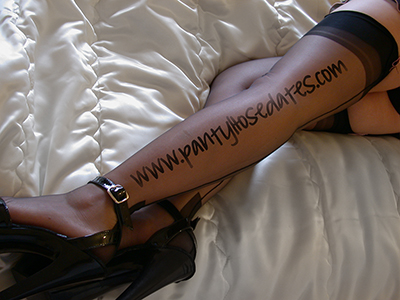 Previous blog entries:
My trip to the beach wearing sexy pantyhose!
He has a complete pantyhose fetish and loved my nylons!
They can see my crotchless nylons caressing my thighs
His Rough Hands Felt Good Against My Pantyhose!
Running his hands up and down my pantyhose
My most divine pair or thigh high pantyhose
Sign up today

and find members near you