Running His Hands Up And Down My Nylon Pantyhose
Hey, everyone! It has been a very long week at work. Even my very sexiest support pantyhose have had trouble holding up. I've worked every day this week at the restaurant and both Friday and Saturday night at the bar. Today is my only day off and it is already mostly gone because I slept in after my late night last night. Of course, I would have been home sooner, but I met this guy there and we went out for a few drinks somewhere else and then wound up back here getting frisky.
He wasn't my type, really, but he had a keen interest in my nylon clad legs and that piqued my own interest. I'm glad that I gave him a chance, because he was a powerhouse in bed. He took his time running his hands up and down my pantyhose, even smoothing his face up against them as he roamed freely across my body. Before you know it, he was so turned on that he couldn't wait any longer and we were going at it like mad rabbits.
It was fantastic! The down side is that I didn't get much sleep and now feel like I could just crawl right back into bed and sleep the day away. Instead, I've managed to drag myself up and shower, slipping into a slinky pair of black sheer thigh high pantyhose, a short skirt and a thin black top that shows off the vibrant red bra I'm wearing beneath it. It's one of my favorites, along with the matching thong I'm wearing beneath the skirt. At least I look better than I feel.
So, now I am sitting here sharing my thoughts with you over a cup of coffee and a cheese danish, at least for now. My boy toy from last night is coming over this afternoon for round two of the marathon sex we had until the wee hours of this morning. He had to run out and tend to some business affairs for a while. I'm glad, since it gave me some time to myself to get ready for him again.
One thing I know for sure, I'm going to be completely exhausted later on, but it will be great to get some solid sleep before the long week of work ahead. I just have to keep my good senses about me and make sure he leaves at a decent hour. I could have told him not to come over, but where is the fun in that?
See you again soon!
Kisses from Angelica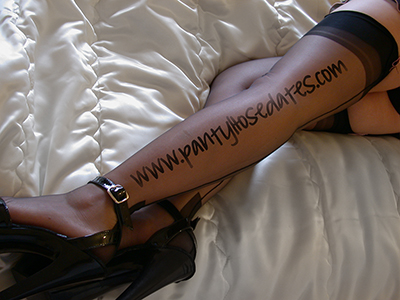 Previous blog entries:
Party-time with red latex dress and pinstriped pantyhose
Do I dare to wear pantyhose on the beach?
My trip to the beach wearing sexy pantyhose!
He has a complete pantyhose fetish and loved my nylons!
They can see my crotchless nylons caressing my thighs
His Rough Hands Felt Good Against My Pantyhose!
Sign up today

and find members near you