His Rough Hands Felt Good Against My Nylon Pantyhose
Hey, everyone! It's been a hectic week at work. The restaurant has been slammed, which means me and my sexy pantyhose have been working overtime to keep up. Several of the other employees are off for summer vacations and I've been having to fill in some of the gaps. It's a good thing that I have so many great new pairs of pantyhose to keep my legs energized during my shift. My customers have been showing their deep appreciation of my nylon clad stems in the form of very nice tips, so I can't complain too much.
With the guy I had been sort of seeing out of town, I've been left to my own devices after work and I've been getting into plenty of fun. We danced the night away at a local club this past weekend when I got off work. It gave me a chance to wear the hot pair of neon green and black striped pantyhose I bought during a sale at the lingerie store. They turned more than a few heads that were drawn to the bright colors. The black stripes were considerably more sheer than the green in the nylons, so hints of my long legs were visible through them.

Anyway, I topped them off with a short black leather skirt and a matching neon green bandana halter top – lots of skin! It was exactly the right look to make me stand out in a crowd. I had so many comments about how hot I looked in the nylons and halter! Best of all, I ran into a guy I used to date and he couldn't take his eyes off of me. He tried to ask me out, but I completely blew him off. He had his chance before and blew it. Plus, he needed to go away anyway, as I had another luscious guy who was all too willing to take me home.
After a long night of dancing, we made our way back to my place. His rough hands felt good against the silky material of my pantyhose as he ran his hand up and down the length of my legs. He was really turned on by them and a bit of a dominant. I was a little disappointed when he ripped the crotch open for better access, but he assured me that he would buy me another pair of my choosing as he began ravishing me with his mouth and tongue. I have to say that he was quite talented. I just might be seeing him again really soon, hopefully for more than just a shopping trip to replace my torn nylons.
Other than that, I've just been all work. I'm hoping that next week calms a bit more so that I can spend more time shopping with all the money I've made this week. I've spied so many great nylons that I want to buy and match with just the right outfit! A girl simply must look her best at all times. Don't you agree? See you next time.
Kisses from Angelica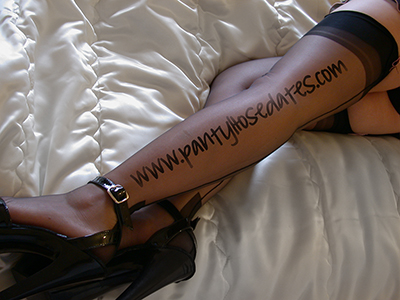 Previous blog entries:
Party-time with red latex dress and pinstriped pantyhose
Do I dare to wear pantyhose on the beach?
My trip to the beach wearing sexy pantyhose!
He has a complete pantyhose fetish and loved my nylons!
They can see my crotchless nylons caressing my thighs
Sign up today

and find members near you