They can see my crotchless nylons caressing my thighs!
Hey there! You will not believe the week that I have had. The restaurant has been so slammed that I've very much needed my favorite invigorating pantyhose to keep me up and on my feet. My short, flirty skirt is long enough to pass the dress code set by my boss, but it tows the line very closely, reaching no further down my legs than it has to. The result is that, at the right angles, my customers can see very far up inside it. They can see my crotchless nylons caressing my thighs, perhaps more depending on how far I bend over.
It comes in very handy when I see a group of single guys or men who have escaped their wives for a while. You'd be amazed what a little pantyhose peep show does for my tips. On nights when I have these type customers, I get triple the amount of tips as usual.
It didn't hurt that the new guy I've been hooking up with took me shopping for a few pair of sexy new pantyhose and matching outfits. I was so glad. The kind of nylons I look for aren't the cheap kind like you buy at the average department store. I rather save up my tips and go to the exclusive lingerie store where I buy the really nice, expensive kind. It's totally worth it. The way they feel caressing my legs as I walk is divine.
Of course, I was more than happy to show him my gratitude for his generosity. I wore my new nylons to work each night he was planning to come to the restaurant and made sure I bent as far over the table across the aisle as possible. He was very appreciative of the preview, as was the guy at the next table, judging from the ridiculous tip he left me. Of course, my long legs and sweet shaven coochie aren't my only asset. I also got a hot tip from the guy at the table I was serving. It seems he was equally appreciative of my ample cleavage.
After work each night, the new guy would stop by my place and tell me just how turned on he had been watching me work in my slinky new panythose. Then, he would drive the point home, if you will pardon the pun. Within moments of his arrival each night, he had my nylons wrapped around his waist as she sucked and bit on my hardened nipples. He loves taking his time, feeling the silky material against his skin, before getting down to the dirty deeds he likes to do to me. I have to say I love it too.
So, that is my week so far. Loverboy will be going out of the country for almost a month on business, so we will have to see what kind of naughty business my pantyhose and I can get into while he is gone. You know that I can't go an entire month without getting nasty somehow. I'll keep you posted!
Kisses from Angelica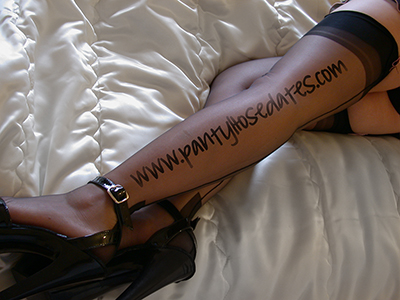 Previous blog entries:
Party-time with red latex dress and pinstriped pantyhose
Do I dare to wear pantyhose on the beach?
My trip to the beach wearing sexy pantyhose!
He has a complete pantyhose fetish and loved my nylons!
Sign up today

and find members near you