He Has A Total Pantyhose Fetish!
Hi! I'm so excited to tell you all about my latest news. Remember the guy I met at the club while I was down at the beach? Well, I've seen him again this week. It turns out that he has a total pantyhose fetish and seeing me in my sheer hose was a huge turn on for him. Of course, I knew that the first go around. He was like an animal as he kissed his way up and down my nylon clad legs, lingering to enjoy my smell captured within. Then he was peeling the nylons off and dragging his lips across my skin so very sweetly. I don't want to get into the really dirty details, but let's just say I've never seen a man as turned on by a pair of pantyhose as he was. He expressed his gratitude by providing me with waves of orgasmic bliss.
Anyway, that was the first time we were together. Now, on to the second. He called me up to meet him at that same club we attended before. Seeing it as an opportunity to venture out to the beach in my pantyhose again, I slipped into a black mesh bikini that left very little to the imagination. There was a small black area that covered up my privates in the front. Other than that, you could see everything I had to offer. I finished it off with a pair of fishnet thigh highs and tossed a short tank dress on top. My nipples were so hard just thinking about what he was going to do when he saw my pantyhose and outfit that you could see them through the sheer material. Since it was a casual beach club, I just stuck on a pair of strappy sandals and went to meet him.
Just as I expected, he was very happy to see me. I could feel his joy pressing against my leg through my nylons, in fact. We had a few drinks and danced for a bit, but we were both so turned on that we just couldn't stay very long. Before you knew it, we were out of there and at his beach house. I quickly found myself tied to his bed using my own nylons while he took his time removing my suit and pleasuring me with his mouth, his hands, his fingers. Mmmmm, it was delicious and that was only the beginning.
By the end of the evening, we were both exhausted from hours of passionate sex. I owe it all to my love for pantyhose and finding just the right guy to share that with. I'm supposed to see him again this weekend. We are going to go pick out a new outfit and matching nylons for me to wear to work. Then, he plans to visit the restaurant and watch me strut my stuff before taking me back to his place again . . . if we make it that far. I'll keep you posted on how it goes.
Kisses from Angelica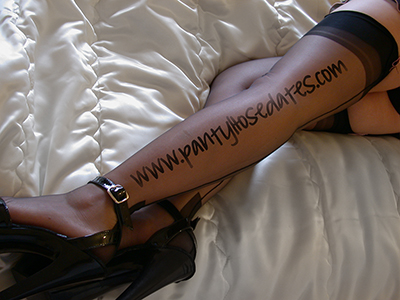 Previous blog entries:
Party-time with red latex dress and pinstriped pantyhose
Do I dare to wear pantyhose on the beach?
My trip to the beach wearing sexy pantyhose!
Sign up today

and find members near you