My Trip To The Beach In Sexy Pantyhose
Hello again! I am so excited to tell you about my trip to the beach in my sexy pantyhose. I wasn't sure if I would ever go through with it, but then I found the most delicious looking pair of sheer nylons at my local lingerie store and it inspired me to go ahead and do it. So, I looked around a little more and found the perfect little suit to wear with it. The champagne color was almost sheer. I'm not sure it was ever intended for public wear, much less with pantyhose! Nonetheless, I decided that I was going to be bold and brazen and just do it.
Stepping out onto the sand, I could feel eyes all over me as I slipped free of my beach cover-up to reveal my slinky suit and silky pantyhose covered legs. In all honesty, other than a slight shimmer, I'm not sure that people could really tell that I was wearing nylons, but I knew it and it made me feel powerful and sexy. Strolling down to the water, I enjoyed the way the sand surrounded my feet, but didn't get between my toes like it usually does. Dipping my toes in the water, the pantyhose soaked up the cool ocean and held it against my skin, caressing it softly. It was positively orgasmic.
Slipping further into the water, I enjoyed the way the water soaked into both the pantyhose and my swimsuit. I frolicked about for a bit just letting it wash over me and then I stepped back onto the sand. I can only imagine how I must have looked rising from the water with the water dripping across my new bathing suit and clinging to the smooth nylons. I got quite a few appreciate looks from men on the beach and even a few women. Of course, I didn't know it at the time, but the suit was almost completely see through when wet. Good thing I got that Brazilian wax so that there was nothing at all to come between my skin and my pantyhose!
Anyway, I really enjoyed it and I think I will definitely be doing it again soon. If you think the fun ended there, you are wrong though. I slipped a simple sundress over my suit and headed down to a local club to finish out my evening. The great thing about this club is that it is right on the beach, so I could continue letting my pantyhose clad feet sink into the warm sand beneath me. I even got lucky enough to meet a guy who found it incredibly sexy that I was wearing the nylons beneath my suit. After a bit of chatter to get to know one another, we spent a great evening with him paying very close attention to my pantyhose covered legs before finally taking them off, but that is a story for another day.
Until then, remember – bare legs are boring legs! Don't leave home without your pantyhose!
Kisses from Angelica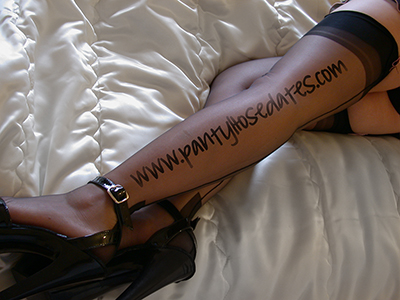 Previous blog entries:
Party-time with red latex dress and pinstriped pantyhose
Do I dare to wear pantyhose on the beach?
Sign up today

and find members near you