Red Latex Dress And Thigh High Pantyhose
Hello, everyone. It's been a killer week at work with long hours on excessively hot days. The upside to it all is that I've been raking in some huge tips from all the fabulous gentleman that eat at the restaurant where I work. I was afraid I would fall short with being off from my weekend job at the bar, but I ended up coming out ahead. You just can't beat that!
I chalk it all up to my charm and sexy, pantyhose covered legs. I don't think it is a coincidence that I'm the only one who wears short skirts that show off my incredible legs covered in a pair of silky nylons and that I'm the most requested servers at the place. I'm just giving them what they ask for, great service with a bit of eye candy to stir their appetites.
Sadly, I worked so much that I didn't get a chance to try out my new idea of going to the beach wearing pantyhose beneath my suit, but I haven't forgotten it on my list of things to do. I am still very much looking forward to strutting my stuff along the sandy dunes and dipping my toes in the water wearing a pair of nylons picked out just for the trip. I'm thinking that I'll go bold by wearing an almost see through suit with ultra sheer pantyhose that are hardly noticeable. Just thinking about it makes me tingle all over. Stay tuned for my final report on how it went in a future blog.
Of course, the highlight of my week was going to that hot new club I was telling you about with an even hotter man. I wish you could have seen me with my red latex dress and red pin striped thigh high pantyhose. That dressed hugged every dangerous curve I have just perfectly. I loved the way it clung to my firm round tits and tight backside as we got all hot and sweaty grinding on the dance floor. That man definitely had some moves and they didn't stop when we left the club, if you get my drift. Needless to say, he showed a sincere appreciation for what I wasn't wearing beneath the body hugging latex dress. In fact, thos pantyhose and my stilettos were the only thing I was wearing at the end of the evening.
Whew! I'm getting warm just thinking about it. I'm telling all you women out there who want to get your man all worked up, you can't go wrong with a pair of silky pantyhose, stilettos and a severe shortage of panties. Be brazen and let your freak fly, girls!
I have to run for now, but I'll be back soon with more exciting adventures to share with all of you out there on the other side of my screen.
Kisses from Angelica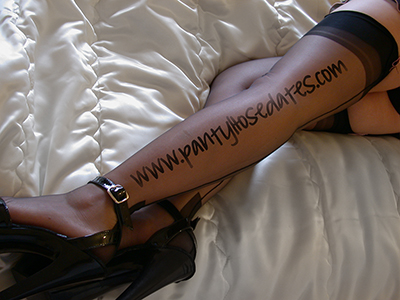 Sign up today

and find members near you