The Ultimate In Pantyhose - A Full Body Stocking!
Hey, people! You all are going to be so excited when I tell you what I bought this week! Brand new pantyhose! Yeah, I know that isn't much of a surprise, but wait until I tell you more about them. They aren't your mama's support control hose. They are the ultimate in pantyhose. A full body stocking!
I saw these pantyhose on a mannequin in the lingerie store and stopped dead in my tracks. I've seen this kind before, but not quite like these. The legs are a sheer, black, silky hose but they go all the way up the body, hugging your ass and tits beautifully. There are tiny little straps that keep the top up in place, but with it caressing your skin so deliciously, I doubt they would ever slip down.

Anyway, the best part is that the body portion of the stocking isn't just sheer like the legs, it has very delicate little cutouts in the shape of bow ties where the nipples should be, at the navel and down the center back until they reach your backside. It is so sexy. As good as it looked on the mannequin, it looked even better on me!
Of course, you know that I had to wear it right away, so I slipped it on and just walked around the house wearing nothing but the pantyhose and a pair of insanely high leather heels while I did my hair and makeup for a night out on the town. I topped it off with a simple black and white jacket dress. You know, the kind that looks like a short raincoat? I felt like a flasher and felt compelled to do just that several times while I was out at the club! Just wearing it got me all hot and wet.
I was invited to a table of wealthy foreign businessmen and they were very generous. One of them couldn't take his eyes off of my nylon covered legs or the cleavage peeking out from the deep v of my neckline. Of course, each time I crossed and uncrossed my legs, the guy across the table had a perfect view of what was underneath my dress. He smiled at me throughout my time with them. I was very appreciative to find out that the two of them didn't mind sharing and invited me up to their room for some after dinner drinks. I couldn't resist their dark good looks and sexy Italian accents. It didn't take much coaxing for them to talk me out of my dress so I could show them my body stocking. One thing led to another and next thing you know, I'm getting it on with two of the sexiest guys on the planet.
I would say that I don't really have anything else exciting to tell you, but wasn't that enough, really? You can't beat finding a great body stocking and two guys who want to peel it off of you so they can do naughty things to you, simultaneously. At least, I don't think so.
I'll let you go for now. Writing about this has made me super horny. I'm going to slip out of my work things and give myself a bit of personal attention, if you know what I mean. See you again soon!
Kisses from Angelica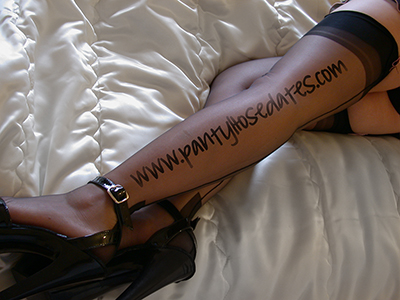 Previous blog entries:
Party-time with red latex dress and pinstriped pantyhose
Do I dare to wear pantyhose on the beach?
My trip to the beach wearing sexy pantyhose!
He has a complete pantyhose fetish and loved my nylons!
They can see my crotchless nylons caressing my thighs
His rough hands felt good against my nylon pantyhose
Sign up today

and find members near you